(1)How long will it take for my order to be processed?
All orders will be processed within 1-3 business days, Monday-Friday.

Please allow extra processing time (1-2 days) during high-volume orders such as sales, new product launches, etc.
(2)How long does delivery take?
3-8 business days for Countries included in the exact product page.
Take following Dinosaur Mask as an example, 3-8 business days for US.
Common shipping methods: DHL, UPS, 4PX, Royal Mail, DPD and so on.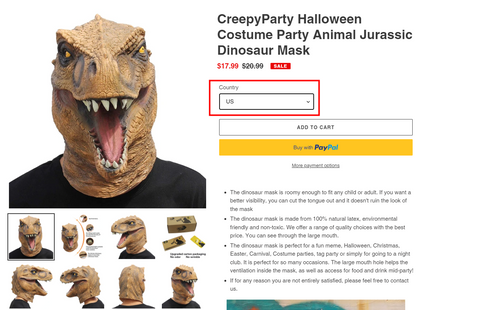 (3)I ordered more than one item. Will they all be delivered at the same time?
We try to make sure all your items reach you at the same time. Sometimes our products are not always sent together since different shipping options can be used, depending on the product. Once an item has been shipped, you will receive a shipment notification email.
(4)What do I need to do when I received a different product than what I ordered?
Please contact customer service at mask@creepyparty.com
(5)How much is the shipping fee?
Shipping Fee: $3.00 on orders $0.00–$30.00
                         $5.00 on orders $30.00–$49.00
Free Shipping: on orders over $49.00
(6)How to get in touch with us?
If you have any questions, problems, suggestions, comments, complaints or praise during visiting or purchasing at https://creepyparty.com/ , please don't hesitate to contact us by the following ways. Glad to serve for you!
Email:
Customer and Orders: mask@creepyparty.com
Business Cooperation: mask@creepyparty.com
(7)Please note
COVID-19 Shipping Delays
Please be aware that orders may take longer to arrive as carriers work to delivery higher shipping volumes due to COVID-19.